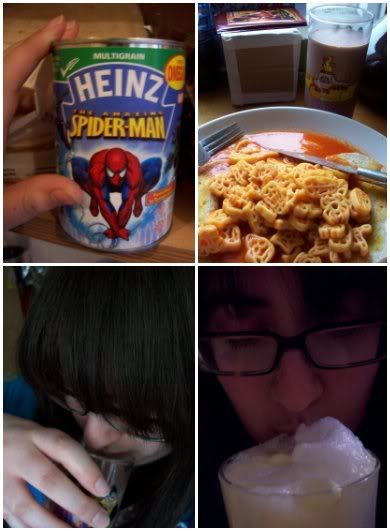 ah and the day is early over!! what a long long day it has been!! today we had presentations all day. my whole year had to get up in the groups and talk about their work. I got very stressed beforehand, and kept worrying!! but it all went fine. I had to speak first for our group. We got good feedback, and now my work is over for this year!! However, I do need to write a review about the 3rd show.
When I got in a was so tried, I tried going to sleep but it did not work. Before I came home I bought myself some
Spiderman pasta shapes
for my dinner. I also fancied a chocolate milkshake, weird combo! Anyway I felt a bit like a kid!! Later on in the evening me and couple of my friends had a quick walk down to the supermarket. The evening was really nice, but it is getting colder!! We got some ice cream and lemonade and made ice cream floats!! They were so yummy!! I have had so many different bits and pieces today, and I am looking forward to a good nights sleep!!