ah did
not
get up very early today!!! so sleepy from the night before. oh and the weather was horrible!! rain rain...and more rain. the first band we had to see today was Jocasta Sleeps. they were amazing!! a great way to start the day.
we then had to walk all the way to the social to see Lena Rez who has a beautiful voice. however we walked all the way in the rain to get there and she had been cancelled!!! ah and then we had to walk all the way back in the rain. When we got back to Rock city it was time for Peggy Sue and the Pirates. they are a fun female folk-punk duo. they were really cool and loved how different all their songs were.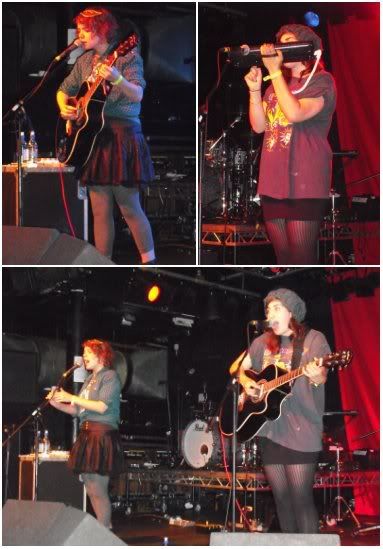 we then went over the nottingham trent uni and saw Animal Kingdom. they were amazing!!! i am so happy we went to see them. the lead singer's voice was so different from anything i have heard in such a long time. then straight back over to Rock city again to see Talk Taxis. they were pretty funky and had a bit of funk, blues and dance music thrown in.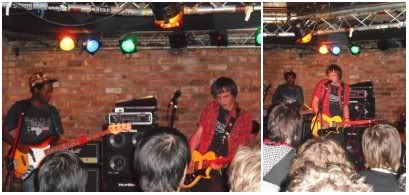 after that we went back to see NO KIDS. i had been waiting all weekend to see this crazy band. before they started there was a comedy singer who keep saying "..bye". classic. NO KIDS made me think of getting spoons and pots and pans and making my own type of music, they were so fun!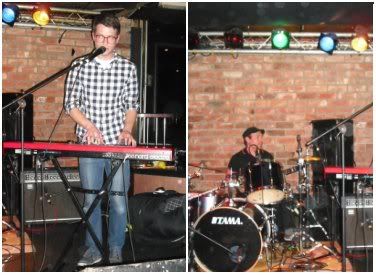 it was then time to see get cape. wear cape. fly. they were really cool. the best bit was when we meet this lovely couple who told us all about all the other bands and singers they have ever seen. and all of the ones they saw at the weekend too. they were so sweet. straight after gcwcf played we ran over the rescue rooms to try and get in to see Santogold. it was a mad rush, but we got in! the place was packed. she was brilliant! good way to finish the night...however we ended up checking out Kissy Sell Out. He has the biggest grin in the whole world! :D